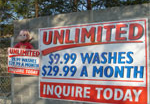 It's almost unbelievable!
No Contract!
Wash your car every day!!
For $29.99 /month recieve unlimited $9.99 washes
$9.99 washes include everything you see in the photo!
Add additional vehicles for only $19.99/mo.
It's fast!!
Our RFID Technology automatically recognizes your car!
Add $6.00
a month per vehicle to receive Rainx on every wash.